A Spanish portal has published official data from AMD related to the upcoming RX 7800 XT and RX 7700 XT graphics cards, which are scheduled to be launched tomorrow, September 6.
Based on the Navi 32 GPU architecture, the AMD RX 7800 XT and RX 7700 XT cards are ready for the challenge with the 16GB GeForce RTX 4070 and RTX 4060 Ti from NVIDIA. The red house itself has made the comparison clear, showing its cards alongside its green rival.
HDTecnologia announced the benchmark test results in its 3DMark suite, divided into two groups: one with ray tracing enabled and one without: As expected, in the absence of ray tracing, the Radeon RX 7800 XT outperforms the GeForce RTX 4070 by a huge margin of nearly 7% on average. , while with ray tracing activated it retains a small advantage (we are talking about 0.5%). Conversely, the RX 7700 XT shows 16% higher performance than the RTX 4060 Ti 16GB. However, the presence of ray tracing may tip the scales slightly in favor of NVIDIA, with an 8.5% advantage over the AMD GPU. Here are some score comparison tables.
Radeon RX 7800 XT 16 GB vs. RTX 4070 12GB
Raster: +6.9%
Reaction: -11.6%
Average: +0.5%
Radeon RX 7700 XT 12G vs. Graphics card RTX 4060 Ti 16 GB
Raster: +15.9%
Reaction: -5.4%
Average: +8.5%
Overall, the RX 7800 XT and RX 7700 XT seem to outperform their NVIDIA counterparts in most benchmarks, with the exception of Port Royal, which by incorporating ray tracing capabilities, the RTX 4070 scores higher than the RX 7800 XT. Once again, however, the RX 7700 XT proves to be the clear winner when compared to the RTX 4060 Ti.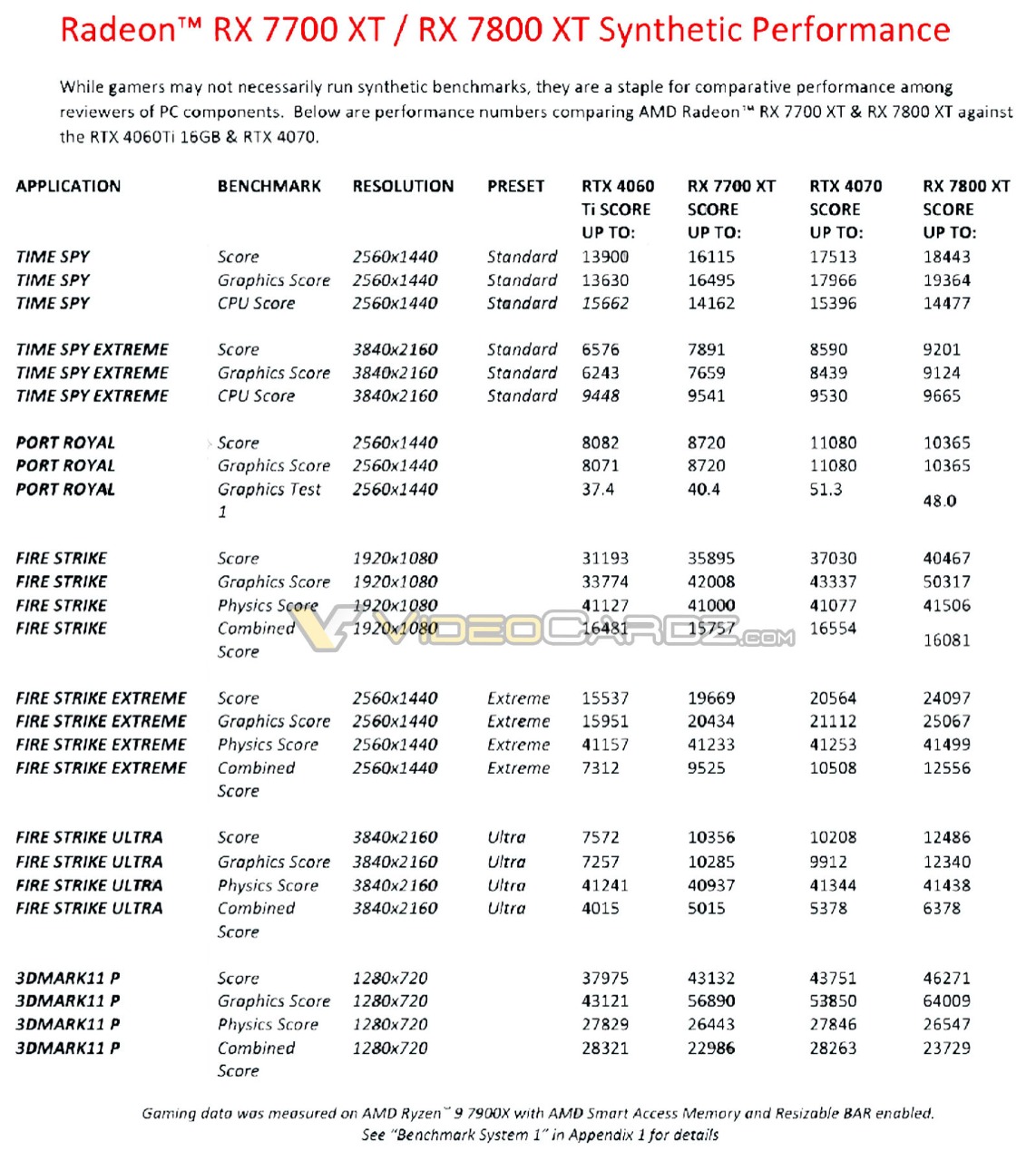 sources: VideoCardz, HD technology
"Incurable internet trailblazer. Troublemaker. Explorer. Professional pop culture nerd."